Aerosoft has been teasing us for the past few months with previews of Cologne (Köln/Bonn) Professional (EDDK). After much anticipation from the whole community, it has finally been released.
Cologne is a major airport and cargo hub in Germany serving European airlines such as Lufthansa, KLM, TUI, Ryanair, Norwegian, Eurowings and more meaning that there are a plethora of routes for you to plan out of Cologne.
Cologne features a photo imagery base spanning approximately 1000 km², high-resolution textures, seasonal adaptations, airport clutter, numerous animations, SODE jetways and much more. It all exemplifies developer Jo Erlend's attention to detail put into this scenery throughout. There's also a built-in configuration tool which gives you the ability to adapt many options to your individual needs meaning performance will not have to suffer behind the incredible level of detail.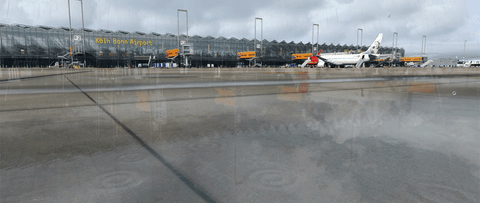 You can grab a hold of Cologne Bonn (Köln/Bonn) Professional over at the Aerosoft Online Shop for a price of €27.95 (Incl. VAT) for the digital version or €27.99 (Incl. VAT) for the boxed version.
This high-fidelity scenery is only compatible with Prepar3D v4.3 due to the risk of OOMs on 32bit architecture based simulators although a less-detailed Prepar3D v3 and FSX/SE version is planned.
Features
Fully compatible with Prepar3D V4.3.
Features a highly accurate recreation of Cologne Bonn Airport (EDDK, CGN).
High-fidelity 3D models of airport terminals, buildings, and other airport facilities.
Interior terminal models included.
Photorealistic building and ground textures.
Animated jetways.
Seasonal textures and model variations.
Winter ground textures with realistic snow effects.
Highly detailed ground service equipment and clutter objects around parking positions.
Up to date runway, taxiway, and stand layouts.
Realistic rain effect on ground textures.
Animated ambient service vehicle traffic.
Animated ambient passengers inside the Terminal.
Custom animated windsock model.
Compatible with AI traffic packages.
Large photo scenery coverage of the airport and surrounding area (approx. 1000 km²).
Custom runway and approach light effects.
Realistic night effects including reflective edge markings, realistic bulb effects, and dynamic adjustments depending on the time of day and meteorological conditions.
Dynamic flood lights included as an option.
Optional static aircraft included.
Volumetric grass included as an option.
Configuration tool included.
SODE animated jetways.
Animated engine test area doors.